2015-2017 Court Restoration Project - 6 Courts Restored!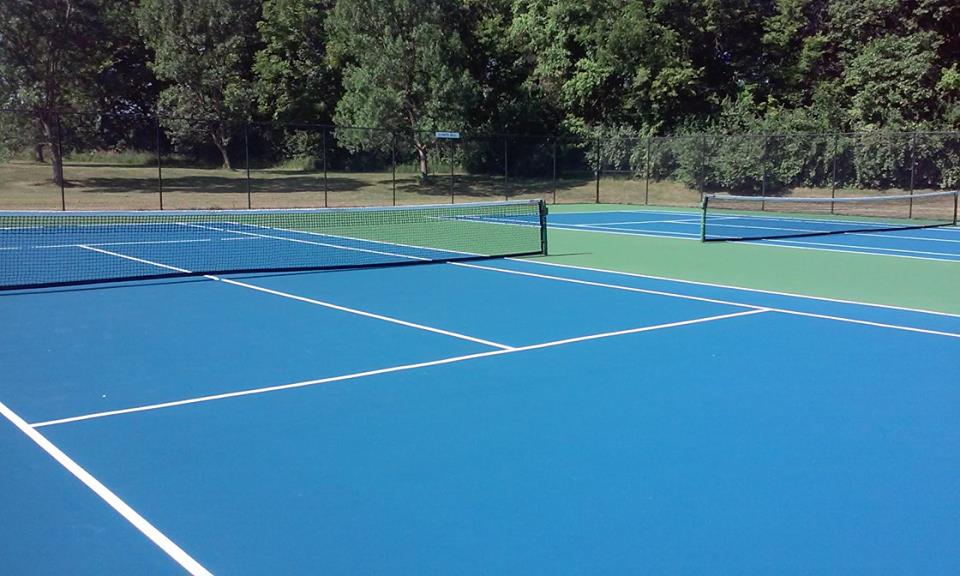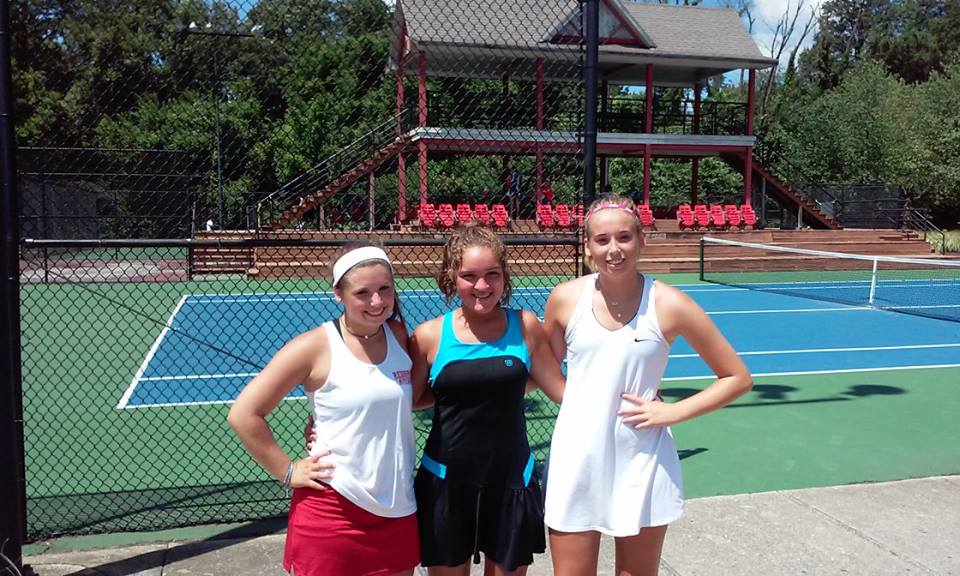 In 2017 six courts at the Dr. Raymond Simpson Tennis Center in Gordon Moore Park were repaired to playable condition - the first step in restoring the Center as the heart of tennis in the Riverbend area. The project was carried out and paid for by the City of Alton and by a grass roots fundraising campaign organized by The Simpson Memorial Tennis Program. Thank you to Alton Mayor Brant Walker, Public Works Director Robert Barnhart and everyone who made donations including the following listed below.
Major Sponsors ($1,000+) - Banner on Court 5 Years

Nancy, Kate, & Rob Simpson

The Claywell Family

The Moehn Family

Anne & King Hoagland

In Memory of Robert Logan

Thursday Night Tennis

Gold Sponsors ($500+) - On Commemorative Banner

Peter Kasavage

Steve Merkle

Marquette High School

Martha Phillips & Kieran McGuane

McConnell & Associates

Jane & Tom Singer

Silver Sponsors ($250+) - On Commemorative Banner

Tom & Patty Morrissey
Barbara & John Hoelscher
Doug & Stephanie Mendenhall
Tim Campbell
David & Michelle Place
Bill & Judy Diddlebock
John Van Hook
Alton Memorial Hospital
The Loading Dock
Jim & Barb Barret
Dave Lipe
Robert & Susie Lowe
Steve & Janet Lesko
Spain/Donnewald Distribution
Marv & Shannon Adler
Bob & Carolyn McCluskey
John & Cami Giertz
Fred & Bonlyn Tiemann

Bronze Sponsors ($100+) - On Commemorative Banner

Donna & Ben Roche
Mark & Mary Cousley
David & Cara Cousley
Susan Stephan
John & Beth Becker
Mike Sholar
The Faulkenberg Family
Nancy Beth Jackson
The Bucket Brigade
Judy Dippold
Myra Rowan
Quality Pontiac
Norton & Rain
CNB Bank & Trust
WBGZ
Friends of Bill Haine
Troy Larsen
Amy Brainerd
John Brainerd
Gregg Hanson
Picture This and More
Gloria Parker
James & Dawn Humphrey
Bob Walters
Bob & Sharon Jourdain
Roberts Motors
Encore Bath
Mike Stumpe
Stan Hogrebe
Millicent & Stan McAfoos
Nancy & Ed Ryrie
Tom & Toni Brummett
Gigi Darr
Darrell Eden
Carrie & Robert Craig
Justin Scheiter
Jim & Kelli Lauschke

Pro Shop Pros ($50 or more)

Gaye & Barry Julian
Wita & Bob Halsey
Linda Smith
Marcia & John Gaskill
Michelle & Steve Matthews
Jay Kasten
Pat & Irene McLaughlin
John & Angie Durland
Miles & Mary Yanta
Lakme Kodros
Charles & Joan Shepard
Vickie & Bruno Dosso
Larry & Shirley Spain
Elizabeth Spain
Ellen & Peter Tassinari
Charles & Joan Shepard
Sandy & Dan Freeman
Greg & Deb Gates
Deb & Richard Miller
Gene & Sarah Ursprung
Frances Coulter
Christina Claywell
Brad & Susan Roberts
Randy & Lynn Jackson
Sarah Rose
Jeanine & Ross Legg
Robert & Michele Meyers
Peter & Heidi Groves
Ed & Marla Fischer
Kristin & Roy Bower
John & Donna Webster
Scott Dixon
Sara & Andrew Herrin
Orlando & Barbara Panfile
Mike &Kelly Keenan
Brian &Karen Moore
Elaine &Bob Kane
Erin &Tom Spain
Jeff Struif
Mike McCormick
Terry Beaubien
Mary Lou Michler
Martin & Lisa Abilex
Mid-Illinois Gymnastics
Jim Syrett
Steve Brand
Laura & Eddie Abilez

Racquet Raisers ($5 to $45)

Gene & Leanne Ridolfi
Gwyn & Ray Thorpe
Kelly Stanek
Michael Baruch
Mary & Joe Bayer
Jean Hauk
Johnson's Corner
White Birch
Gouldings Jewelry
Judy Durr
Stephanie Kreitner
Patrick Purcell
Carol Manning
Jim Spain
Mike Haynes
Barb Gable
Carolyn Gibbons
Patrick Gable
Danny Gerdt
Demetra Almonroeder
Mike & Pollyann Walters
Derek Trent
Pat Coyle
Derrick & Kathleen Richardson
Randy Nistler
Steve Arnstein
City of Alton 2017 Plan to Fix Tennis Courts at Simpson Center
City Project Leads: Mike Haynes and Bobby Barnhart.
Donations Through April 2017
Choose Contractor May 2017
Begin Repairs June 1, 2017
Play on Courts July 4, 2017
Location: Dr. Raymond Simpson Tennis Center at Gordon Moore Park

Built in 1991. 8 courts, 4 lighted.
Stadium seating/ADA access/parking for 300 spectators
Pro shop with a water fountain and bathrooms.
Courts last resurfaced in 2006. Cracking and peeling surface.

Scope: Long-term solution to repair cracks on 8 courts at Simpson Center at Gordon Moore Park

Strip existing surface
Fill cracks
Cover cracks with geotextile fabric
Level/Resurface/Repaint

Estimated Cost: $100,000

Based on proposals provided by McConnell, Pro-Track, and Sport Court
All eight courts were examined in person by contractors and deemed fixable.
Guarantees up to 10 years against cracking using geotextile fabric solution.
Courts will not show any lines where cracks have been treated.
Courts will play like normal hard courts.

Funding: City with match up to $50,000 raised by Raise Your Racquet Campaign

You can help! Donate above and attend Raise Your Racquet
Raise Your Racquet Benefit

Maintenance Plan: Resurface every 5 years

Budget $11,000 year to resurface 8 courts every 5 years
Courts should show no cracks for many years with regular resurfacing
Why It's Important
Central Location

The tennis center is located near the geographic center of the Riverbend area - an ideal spot to serve the communities of Godfrey, Alton, East Alton, Bethalto, Roxana, and Woodriver.

Excellent Facilities

The tennis center has 8 courts, lighting for 4 courts, stadium seating/ADA access/parking for 300 spectators, and a pro shop with a water fountain and bathrooms. It is in a beautiful setting with natural protection from the wind. It is laid out in two court banks that limit interference from other courts.

It Gets Used!

Because of its great location and facilities, many people and schools play at the tennis center. It is well suited for USTA tournaments such as the Bud Simpson Open, Alton Open, Alton Closed, and Alton Junior Open.
What Needs Repair
Court Surface



The courts were last resurfaced in 2006 by the City of Alton. Since then the surface has cracked and begun to flake off (Click here for pictures). The courts are not useable for higher level competition and present a tripping and slipping hazard. Further, the untreated cracks will continue to get worse as water enters them.




Cas Shepard from SMS Engineering, McConnell and Associates, Pro-Track Tennis, and Sport Court have visited the courts to recommend repair options. They found the following:



The amount of cracking is consistent with what you would expect for asphalt courts that were built in 1991. Asphalt tends to form cracks due to thermal expansion and contraction.


The cracks on courts 1, 2, 5, 6, 7, 8 can be remedied using several different methods including: filling and sealing, using fabric overlay, overlaying with asphalt, tearing up and rebuilding with asphalt, tearing up and rebuilding with post-tension.


We can expect to get many more years of use from the tennis center by using the filling/sealing and fabric remedies along with a schedule of resurfacing every 5 years. A complete tear down and rebuild of the surface is not currently indicated.


(Ten Year Plan) A repair plan that includes filling cracks, using geotextile fabric over the cracks and resurfacing will produce flat courts with little to no cracking for 10 years or more. Typically, the courts should be resurfaced every 5 years at a cost of around $7,000 per court.


History